Jennifer Real is an athlete with many talents. She races for and manages the Saris | NoPinz Elite women's Zwift racing team. She's also and M.D. in internal medicine. Dr. Real joins Fast Talk to talk about indoor training and racing, sleep monitoring, recovery in women, ERG mode on the trainer, and vitamin D for athletes.
The Monotony of Indoor Training
This question comes from Michael Bevan:
I train exclusively indoors, for Time Trials. My racing power is currently about 320W
To get past the monotony of indoor training I decided to do the following, two times per week. 400w for 1min, then 150w for 1min and repeat for 23 intervals, as that is all I have time for. The normalized power was 330w for 43 minutes.
Weather permitting, I would do a road session on a Saturday – 2 x 20min mostly. I was able to TT at 320w for 30 minutes.
Any thoughts on this approach?
WHOOP Sleep Data
This question comes from Giancarlo Bianchi in Colorado:
I've been using Whoop since last October. I feel like it's most useful in helping you hone the skill of "listening to your body". One thing I've been having trouble/issues with lately is sleep. It would seem I don't sleep pretty much. On average I get about 5.5 – 6 hrs of sleep and somehow am able to function. I am in bed by 9-10pm and usually wake up pretty early (5-6am) with the sunlight, without an alarm and usually feel fine. 
One thing I've started to see is, when I wake up at 5 or so, my whoop reading would be in the green and HRV will be in a good range. However, despite this reading it would say I slept something stupid like 4h50m. Sometimes I would try to get another sleep cycle in and just fall back asleep. I usually would sleep another 30 minutes to an hour. When I do, I take a new reading and both the score and HRV are usually worse than before. I found this quite puzzling. 
When I was talking to my wife about this, she asked if I always slept such short hours since I got the whoop. I told her, well I don't know, so I created a graph in TrainingPeaks and saw something interesting. There is a definite shift in my sleep around the time I started more formal training/training with structure (Beginning of March). So I would suspect that I am carrying more cortisol in my body and that's maybe why I am sleeping less?
My questions are:
Is the whole needing 8 hours of sleep a myth? It would seem I am able to function just fine (work 40 hrs of week, training 12-15 hrs a week on average), so should I be worried at all?
What might have caused the shift in my sleep when I started training? Is my theory about cortisol sound or are there other things causing it?
Relevant graphs below:
Graph of Sleep hours from beginning of Whoop use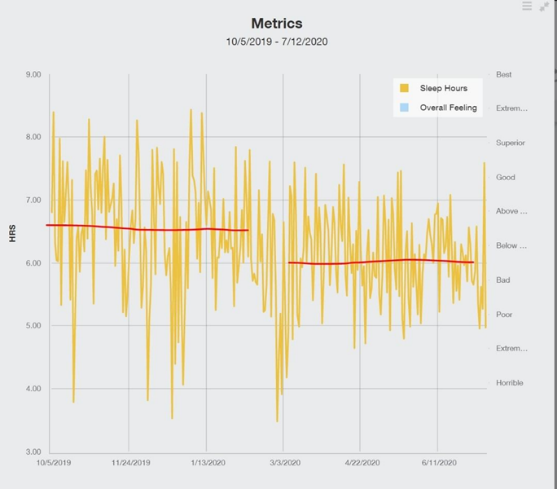 Sleep hours overlayed with HRV: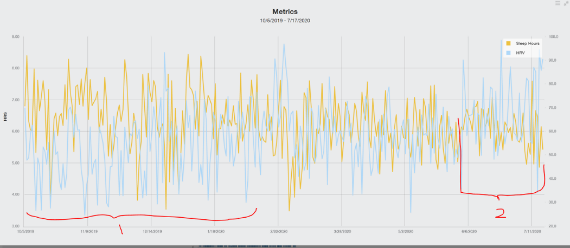 Recovery Needs for a New Female Cyclist
This question comes from Sasha Helmy:
I've recently started listening to your show. It has really helped my training! COVID got me into riding a bike and now that racing has started, I've decided to try my first race this spring. I'm nervous but also really excited for my new adventure.
What I wanted to ask you about is recovery. You've talked a lot about it on the show, but I was wondering if it's different for someone like me – a woman who is fairly new to the sport. In particular, does my cycle impact the amount of rest and recovery that I need?
ERG Mode on the Trainer
This question comes from Jeff Pugsley:
I love your podcast! I have been working through all the episodes and have found many valuable training tips. As someone with a science background (MD – radiologist) who is regularly digging into methods sections of journal articles, I really appreciate the level of science understanding and critique that you bring to the podcast. My cycling interests are primarily MTB and I do a variety of events from 100 mile races to enduro. I have a question for which I haven't found answers:
ERG mode on trainers wasn't really addressed on the trainer podcast, and I can't find any articles that specifically address pros/cons in the literature. Erg mode locks you into a certain wattage and you get to choose the cadence. While there are obvious downsides to using this all the time (don't develop a feel for maintaining a certain effort, not very specific to the real world), I have found that in certain types of intervals it allows me to go longer and dig deeper than I would otherwise be able to do. For example efforts around threshold or VO2max I can hold the effort significantly longer in erg mode. I know some of this is mental and some is the ability to select precisely a preferred cadence. If the goal is to fatigue the system to induce adaptations it seems like ergo mode could be a good thing, but it is not the same as real world riding. I'm wondering what the science is on comparing erg to non-erg training and if there are times you prescribe erg intervals.
What About Vitamin D?
This question comes from Doug Rousho in Rochester, NY:
I am curious about Vit. D supplementation as here in Rochester, NY the winter season rarely sees sunshine and even when it does peak out, you are riding with full skin coverage. What are your thoughts?
I typically stay away from supplements in general but have done the beet thing and add maca root to pre/post ride drinks and foods. Not sure about actual results but they can't hurt and are classified as food rather than supplements anyways I believe.
Mixing Zwift and Non-Virtual Racing
This question comes from Alexa Cross:
I really got into Zwift racing in 2020 and 2021 when there wasn't any racing going on around me. It's a lot of fun and keeps me motivated.
This year, on-the-road racing is coming back and I'm wondering how I balance the two. Can I do both Zwift and weekend road races at the same time or is that too much intensity? Should I give up my Zwift events until the road season around me is done?
Episode Transcript