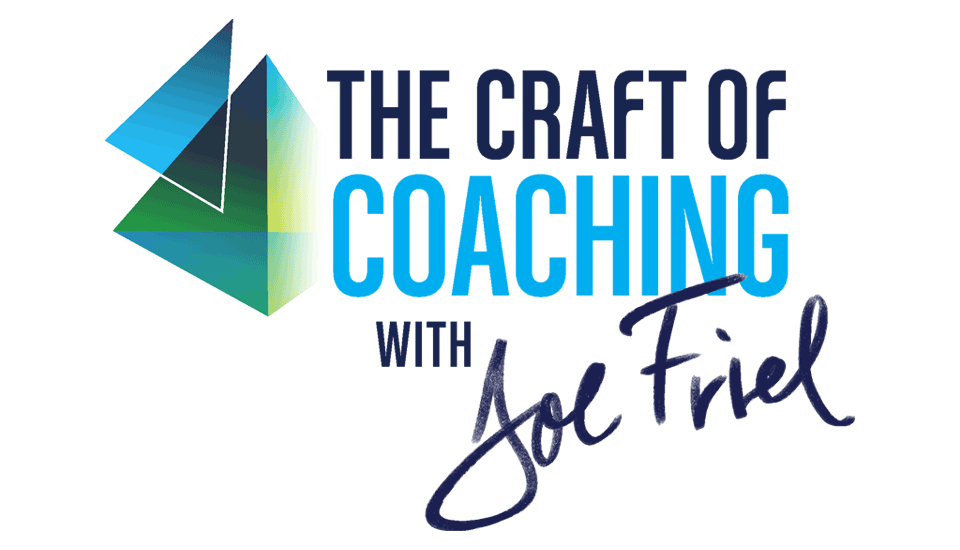 Different Business Models for Coaching
Joe Friel explores the pros and cons of different options available to coaches, from 1-to-1 coaching to group coaching, both online or face-to-face, as well as online training plans. Consider the quality of the service you deliver, the time investment, what it's worth, and the level of expertise required.
Most coaches rely on a variety of coaching models in their work with athletes. With the right mix, coaches can make better use of their time and improve their bottom line. For the athlete, a combination of online and in-person coaching and training provides more opportunities to get to know the coach and the methodology at work.
You are undoubtedly familiar with all of the business models described here, and even other variations. Approaching this topic from a business perspective can bring to light different advantages and disadvantages, as outlined in the graphics below. Of course, there are probably coaches who have come up with unique ways of providing each of the service types, which could change things significantly.
Consider how quality, time, compensation, and experience play out in each model. I often found myself making arguments both ways, so we could likely ask 10 coaches and get 10 different rankings.
Think about the coaching services you provide to athletes in a focused way, considering the bigger picture of your business. What can you do to facilitate growth in the future? How can you play to your strengths? Obviously, if you are not one to rally athletes to turn out a set of hard intervals in a group workout, focus your time and attention elsewhere.
1-to-1 Coaching
| | |
| --- | --- |
| Online | Face-to Face |
| Individualized training with contact via the Internet. | Commonly done with athletes from the coach's locale. |
| Can also be done in combination with a group online to create a team feeling. | Individualized face-to-face meetings, workouts, and distribution of training plans. |
| The athlete is often treated as if they are the coach's only client. | May also be done only periodically with most of the season being group or online. |
| Perhaps the most common coaching model of the last 10 years. | |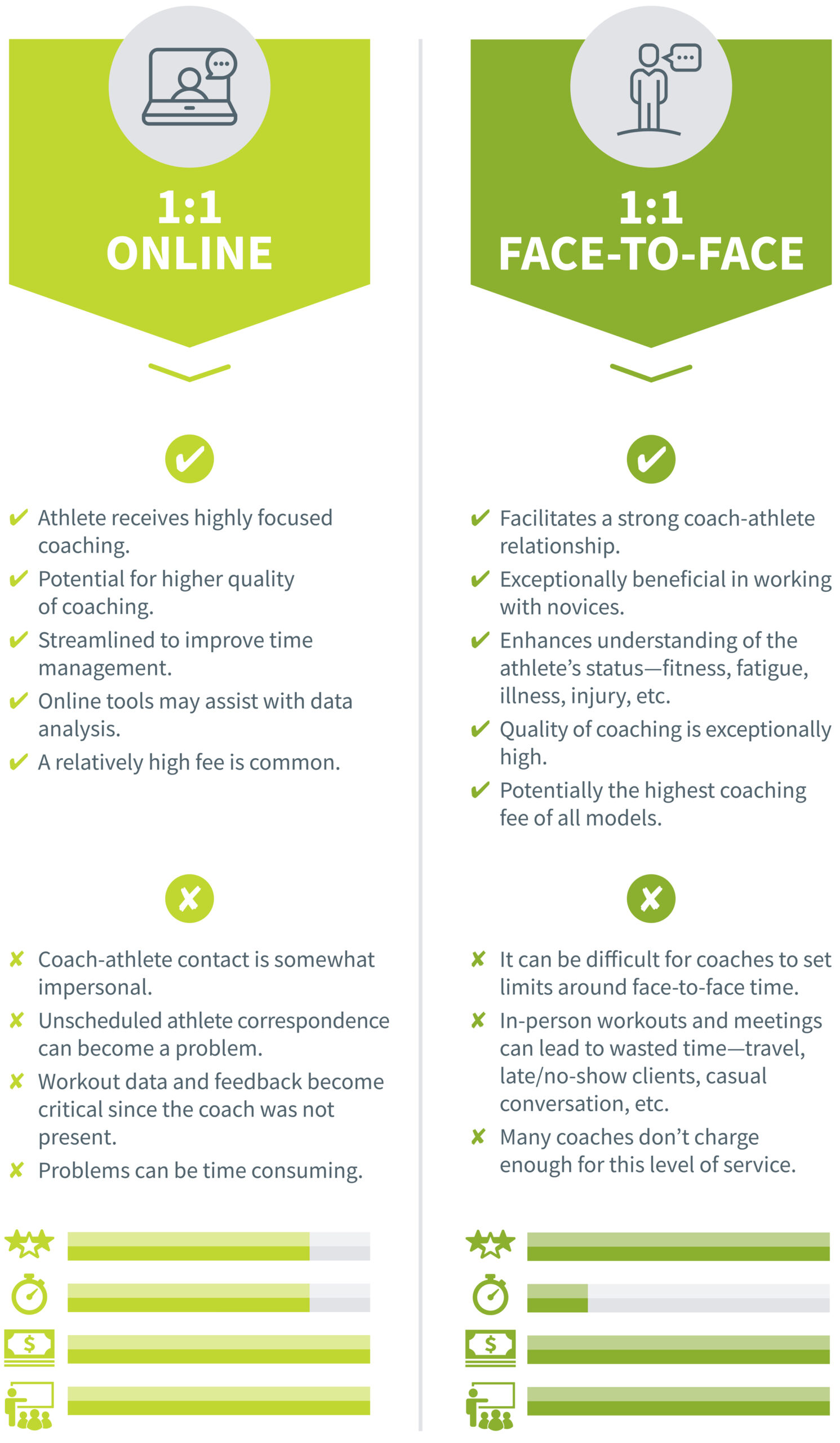 Group Coaching
| | |
| --- | --- |
| Online | Face-to-Face |
| Group "meetings" are held virtually and similar/same training plans are provided to each athlete. | Meetings and workouts are commonly done with the coach attending and leading the sessions. |
| Contact can be a combination of online and face-to-face. | Common model for camps and teams, although usually seasonal. |
| The group may pay a set fee, which is equally divided among the members, reducing their individual cost. | Big groups usually require multiple coaches. |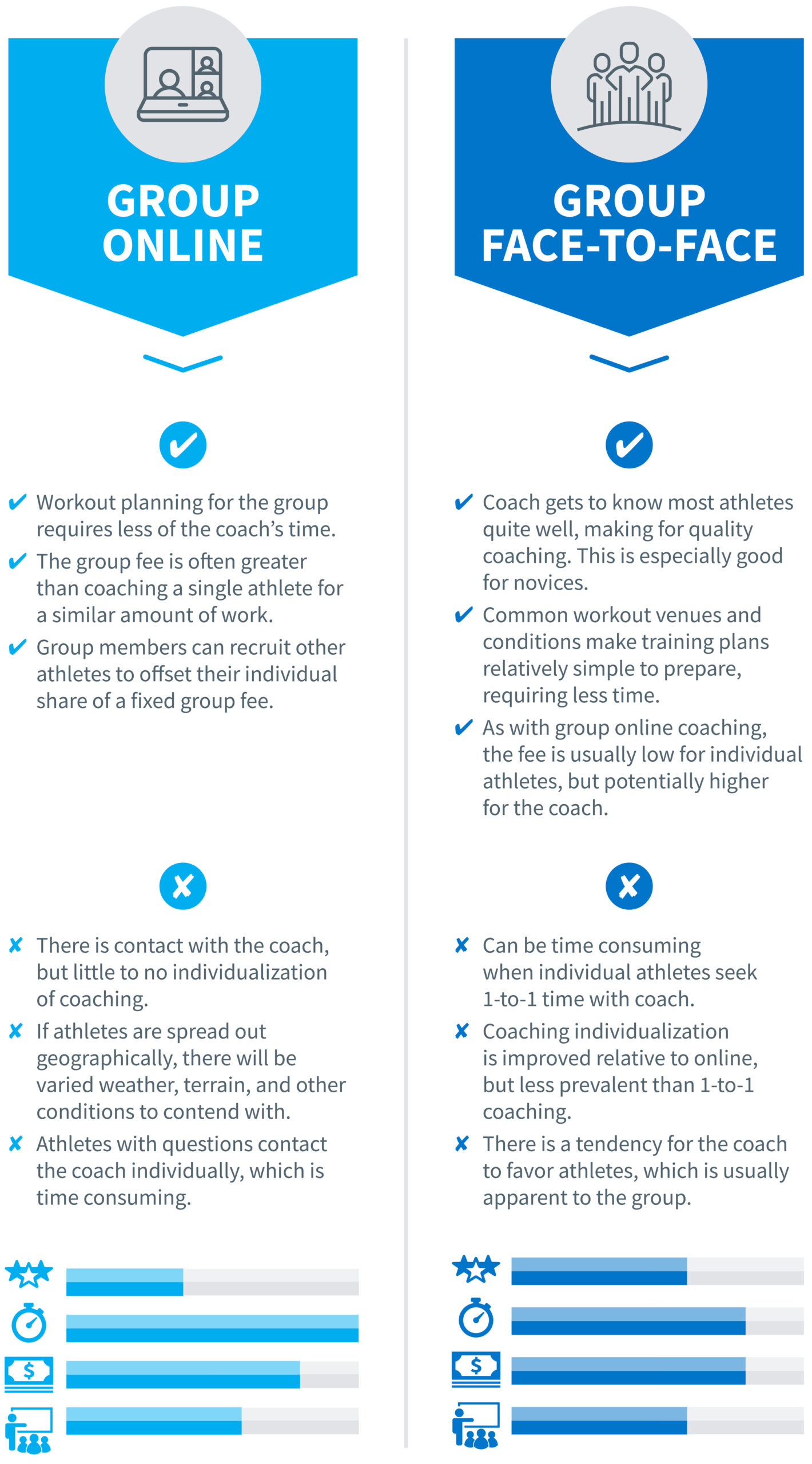 Online Training Plans
| | |
| --- | --- |
| Conventional | Custom |
| Training plans created for large groups of athletes with similar needs and conditions. | Custom training plans created for individual athletes with limited or no follow-up by the coach. |
| Plans can be marketed to athletes through platforms, like TrainingPeaks. | May be sold online or ordered by athlete. |
| Event-specific plans can be sold in cooperation with race directors. | The plan is specific to a given period of time, usually 12 weeks. |
| | The athlete can easily renew the relationship and receive another training plan or opt out at any time. |