Over my years of coaching a squad of athletes in New Zealand, I became aware that my coaching style often varied depending on whether I was interacting with my male or female athletes. It was largely a subconscious reaction to how I thought each athlete interpreted the information or responded to what we were discussing. This realization underscored the importance of understanding the subtle differences between the sexes and led me to read The Female Brain by Dr. Louann Brizendine.
How my coaching evolved to account for sex and hormone differences
The Female Brain explains how the female brain works and what's unique about it when compared to the male brain. Dr. Brizendine explains that women's behavior is different from that of men due, in large measure, to hormonal differences. As this pertains to coaching female athletes, I recognized that women approach various aspects of life differently from men, and these differences factor into training, competition, and the coach-athlete relationship. In general terms, here are some of those differences:
Women prioritize the greater good over personal interests.
They strive to create a safe and appealing work environment.
Women engage in thorough decision-making and risk assessment.
They tend to take responsibility for everything.
Building and repairing relationships is of utmost importance to women.
Collaboration takes precedence over competition in a group setting.
As a coach, it is essential to use this understanding to develop appropriate strategies for engaging with different athletes and participants.
An athlete's menstrual cycle is an important metric to training, shining light on trends that might need to be addressed. However, not all women need to adjust their training to address hormone changes.
It was also around this same time that I began modifying training for some of my female athletes to accommodate the symptoms associated with the menstrual cycle. This decision coincided with an introduction to my friend and colleague Dr. Stacy Sims, who was at the time pioneering research in this space on her journey to publishing her ground-breaking book Roar, which focuses on working with female physiology for optimal performance.
This led me to further evolve my coaching practice because now I was not only consciously modifying my communication style, but also the training prescription. Some of the female athletes I coached experienced hormonal and physiological changes that required training adjustments to match the follicular and luteal phases. No longer was I simply working with fixed traditional training load and recovery cycles, but I was making acute changes based on how each athlete transitioned through their menstrual cycle.
RELATED: Coaching Resilience, Every Cycle
Female athletes who are training for performance can have vastly different psychological and physiological responses to training load, as compared to their male counterparts. Furthermore, the stages of the menstrual cycle (follicular and luteal) can also have a significant part to play. Even in working with athletes who experience a normal menstrual cycle, moving into perimenopause and post menopause can introduce new challenges. Perimenopause is the first stage of natural menopause, which can start many years before menopause, the precise point when a woman's period stops.
Some athletes will experience subtle changes to physiology, hormones, and metabolism within a naturally occurring cycle, and for women who are moving into menopause these changes can be more pronounced. Amid all of these factors, I was eager to find new ways to monitor hormonal changes in female athletes. I wanted to optimize training, but also optimize the way I communicated with them.
Relevant coaching leads to stronger coach-athlete relationships
I found that women were largely well aware of the effects of hormones—it was the male coaches who were simply catching up! Historically, female physiology seemed to be a taboo subject for male coaches, but I saw it differently. Female athletes were as motivated to improve performance as their male counterparts. As I saw it, any coach who was willing to listen and adjust training to the athlete's menstrual cycle when necessary was undoubtedly going to increase the athlete's chances of success. As a coach who is invested in developing a skill set that increases my scope of practice, I found it easy to engage in these conversations.
Coaching an athlete back to her natural cycle
I distinctly remember being approached by an aspiring professional triathlete for coaching, and in our first face-to-face meeting, I touched on the subject of the female hormonal cycle as it pertains to training and adaptation. Given the fact that I made this conversation seem so natural and part of a holistic coaching practice, it elicited the athlete's admission that she had not had her period for several years. We made it a priority to work toward getting her natural cycle back, alongside the goal of positioning her into professional training and racing. The end result was that this athlete felt incredibly supported in her endeavors to race professionally. Working alongside some skilled practitioners, including a nutritionist and physiologist, we started the training process and this athlete went onto regain her period and in her second full season she went unbeaten in 10 races.
Coaching an athlete through menopause
With regard to the hormonal changes that happen as female athletes age and go through menopause, coaches need to be attentive to the potential need for increased recovery. Many female athletes require more rest and regeneration, beyond what might be typical of aging athletes. The athlete's metabolism and body composition might also undergo changes. At first this can prove a real physical and emotional challenge for the athlete, albeit this is where the coach can have the greatest impact. I recently worked with an athlete who faced this very real struggle. Being able to adjust her training focus and place greater emphasis on areas like protein intake, strength training, plyometrics, and quality HIIT training helped to offset some of the negative impacts she was experiencing in menopause. A different training protocol helped this athlete maintain her belief and confidence that good performances were still within her grasp.
Tech, tools, and education to get coaches and athletes up to speed
While the conversation is changing, I believe that many male coaches remain fearful of both the subject matter and the learning curve, which is why companies like Wild AI are important for ongoing education for both females and males alike. Three years ago I was asked to contribute my coaching experiences to Wild AI's platform to firstly help women understand more about what's physiologically happening in their bodies and how they might harness that potential, but also to help male coaches improve their knowledge and practice in this space.
When I first began looking for a way to effectively track the athlete's menstrual cycle, there were lots of offerings that focused on fertility, ovulation, pregnancy, et cetera. This is obviously very different from tracking how an athlete is performing and responding to training. Wild AI is a personalized app that helps athletes reach peak performance by using AI to assess personal data alongside the data of other female athletes. It does so by tailoring recommendations to the athlete based on how they have performed to date, how they are today, and how they might do in the future. "Big data," aggregated from all female athletes, is a backdrop for understanding the individual athlete's symptoms and finding patterns. In turn, that knowledge is used to offer daily recommendations that help the athlete reach peak performance. Via the Wild AI tracking app active women are educated on how to train, fuel, and recover based on their female physiology. The soon-to-be-released Wild AI Coach Academy is designed for coaches who want to harness the app's AI data to improve their coaching practice.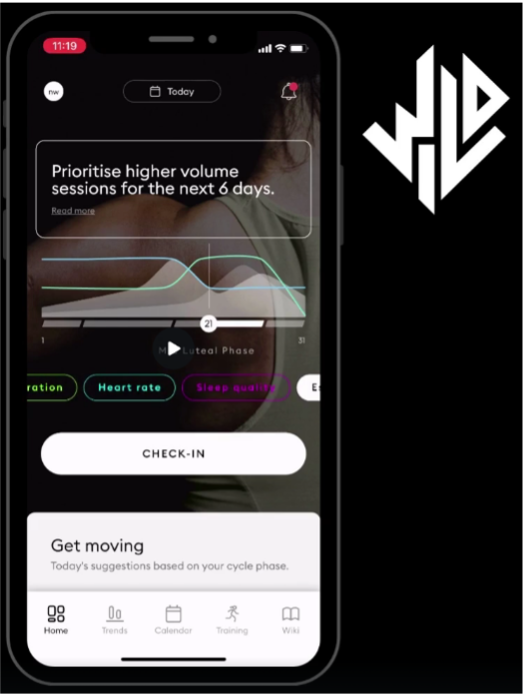 Communication with female athletes needs to consider unique differences pertaining to a woman's motivation, responsibility, attention, and engagement in training and competition.
With the recent upsurge in AI offerings in the training space, it makes absolute sense to harness technology to synthesize the data of female athletes to facilitate better coaching decisions and improve more open communication with athletes. As a new breed of practitioners, informed coaches will be able to influence both the physiology and the psychology of the female athlete they're working with.
In conclusion, coaching female athletes requires an understanding of their unique physiological and psychological needs. Coaches who take the time to learn about these differences and adjust their coaching style and training prescriptions accordingly can increase their chances of success. With the help of technology and resources like Wild AI, coaches can continue to improve their knowledge and practice in this space to better support female athletes on their journey to optimal performance.
---
BEVAN MCKINNON coaches a squad of triathletes at Fitter Coaching and co-hosts the Fitter Radio Triathlon podcast. McKinnon's squad includes a wide spectrum of athletes, from pro triathletes with multiple Ironman and 70.3 wins to age-group triathletes looking to achieve their dream of qualifying for Kona. He is an Ironman University–Certified Coach, Triathlon New Zealand Level 3 Accredited Coach, Bike New Zealand Coach and a qualified NETFIT Strength and Conditioning Coach.
McKinnon works closely with Ironman Oceania and its Women for Tri program and is also an advisor to Wild AI in delivering female-specific training and nutrition advice.
McKinnon has won age group titles at the Ironman World Championships in Kona, ITU Long Course Championships, and 70.3 Worlds.