If you're looking for something a bit different to fuel your adventures this holiday season then look no further than these no-bake mint chip bars. They're great for pre- or post-workout snacks and are packed with healthy, nutrient-dense ingredients, such as chocolate, almond butter, and maple syrup. Chocolate contains antioxidants, a bit of caffeine, a hit of iron, soluble fiber, vitamin D, manganese, copper, and magnesium, so it's basically a superfood. The pure cacao powder contains theobromine, which is known to help reduce tiredness.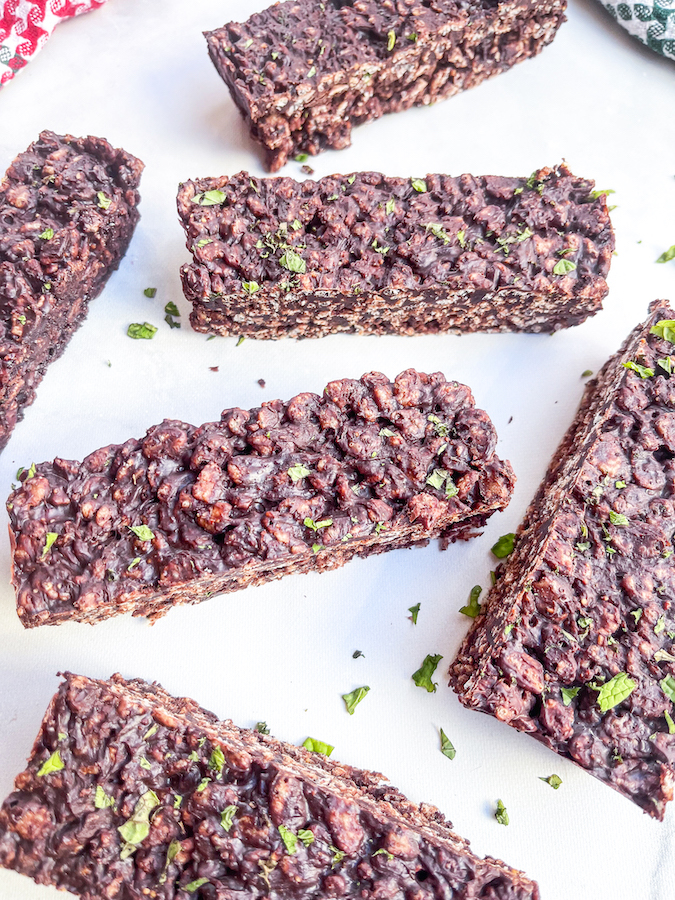 No-Bake Mint Chip Bars
Prep Time: 10 minutes
Cook time: 5 minutes
Chill Time: 1 hour
Total Time: 1 hour and 15 minutes
Servings: makes 6 big bars, 12 smaller bars
Ingredients:
2 cups brown rice cereal (crispy)
¼ dark chocolate chips (cacao chips if you can find them)
¼ cup almond butter (creamy)
½ cup maple syrup
3 TBSP cacao powder
⅛ TSP salt
1 TSP vanilla extract
1 TBSP fresh mint, minced
Method:
1. Use a 9×5 loaf pan lined with parchment paper over the sides. In a large bowl, place the rice cereal and chocolate chips. Leave aside.
2.  Using a small pot, add the almond butter, cacao powder, and salt. Whisk until it gets smooth and melts. Bring it to a simmer and whisk constantly for a minute or so. Be careful not to burn it. Add the vanilla extract and mint, remove from the heat and stir.
3. After the chocolate is melted, pour the mixture over the rice cereal and chocolate chips. Mix well until it's fully combined.
4. Spread the cereal mixture into the pan evenly. You can use a silicone spatula to help with the spreading. Sprinkle some chopped fresh mint on top.
5. Let the bars chill for an hour before serving—then enjoy!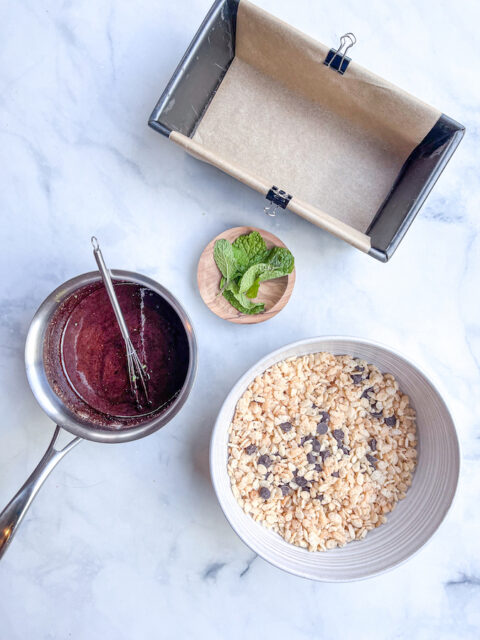 Tips:
Keep in an airtight container in the fridge for about a week. You can also keep them in your freezer for three to four months.
If you don't like almond butter, this recipe will work well with peanut butter or cashew butter.
You can use raw amber agave instead of maple syrup if preferred.
RELATED: Holiday Fuel On-the-Go: Hot Cacao Cookies